It's a little counterintuitive.
Windows that don't open? What's the point?
Picture windows are more of an artistic display than a functional, traditional window. They have no moving parts and, therefore, don't open or close.
But believe it or not, this window style has some seriously appealing benefits. Here are four big reasons picture windows could be just the thing your home needs.
1. Lots of Natural Lighting
Picture windows can be installed almost anywhere, filling otherwise dark rooms with mood-boosting, energy-saving, bright natural light.
With a variety of sizes and shapes, these windows are more versatile than most; but don't worry about any negative implications of sunlight, such as stained furniture or rising temps, with our LOĒ³-340 glass.
2. Money Savings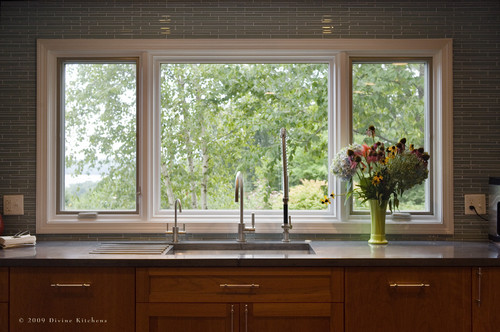 Who needs to turn lights on when there's so much natural light filling the room? With tightly sealed edges in conjunction with our LOĒ³-340 glass, energy savings can be expected as well.
Aside from that, there are no moving parts at risk of breaking and needing replacement; this also means picture windows typically cost less than that similarly-sized, moving windows.
3. The Views!
Picture windows can become the main focus of a room, or even your entire home. If you have a stunning backyard, view, or just want to capture the natural beauty of the sky, picture windows make it easy to frame it like art.
Not to mention these windows can make your home look bigger altogether, as the lighting and views give the illusion of more space.
4. Durability and Minimal Maintenance
Without the constant motion of opening and closing, picture windows have a tendency to remain intact for longer than traditional windows.
But because these windows are such a focal point in the home, it's important to keep them clean and sparkling. Otherwise, maintenance is a breeze.
XO Windows: Picture Perfect Windows
Picture windows can give your home the look you've always dreamed of. If you're interested in these artistic windows, we are thrilled to help you find the perfect ones for your home.